Rumors of Netflix's Death Have Been Greatly Exaggerated
David Irons & Jack Tyrie
Published September 21, 2022
A broad survey of Publicis marketing & communication professionals indicates that Netflix is still in the streaming driver's seat.
It has not been a great few months for the streaming world. Once darlings of the pandemic economy, the streaming category has been beaten up in the press and stock market. Netflix, in particular, has been the focus of a lot of doom and gloom. The streaming giant's stock fell almost 70% over 6 months and there has been rampant speculation that competitors like Disney are overtaking them.
The shifting economics of streaming is leading to huge upheavals, including creation of ad-supported tiers which provide access to millions of eyeballs. The winners and losers of the next evolution of streaming — both the streamers themselves and their tactics — will have a huge impact on the marketing landscape.
It's important to dig deeper than just subscriber data, which doesn't tell the full story. This is why we surveyed more than 1,700 Publicis Groupe US employees to get their opinions about streaming content, subscriber models, and viewing habits: to get a more contextualized understanding of the streaming space (at least amongst marketing & communication professionals).
The results indicate that streaming is still a large part of people's lives and unseating Netflix as the king of streaming will be very difficult.
Service and Content
Netflix still rules the streaming space.
Not surprisingly, Netflix is currently the most used platform, with more than 85% surveyed indicating that they regularly watch the streaming service. This is followed (distantly) by Prime (65%) and Disney+ (60%).
Netflix also earned top marks in the best content category, with 38% saying it has the best overall content, followed by HBO Max at 16%. 13% indicated that all the services are about the same in their overall quality of content.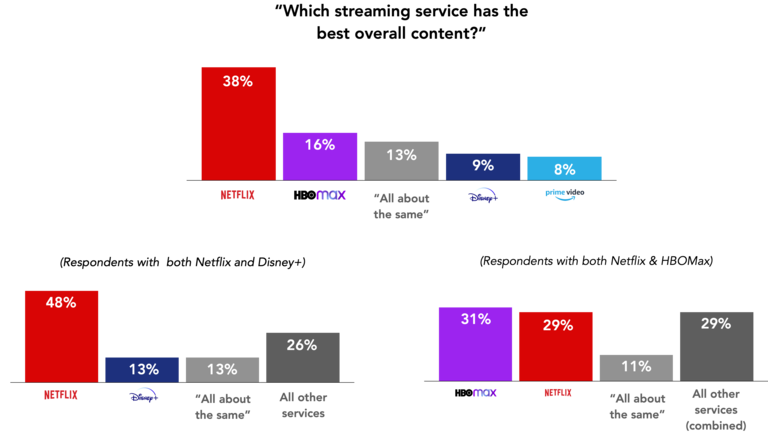 Looking at just the people who have both Netflix and Disney+, Netflix wins the "best content" contest with 48%.
The only challenge with respect to content comes from HBO Max, which had a reputation for high-quality originals like The Sopranos, Game of Thrones, and Curb Your Enthusiasm before streaming was a thing. Despite its pedigree, it only slightly beats out Netflix, 31% to 29% when we just look at those with both Netflix and HBO Max.
Netflix's algorithm also ranked the highest, with 55% of respondents feeling like it's the best at recommending content while 21% indicated that all the streaming services' recommendation engines are about the same.
Netflix is the service you keep.
Perhaps most telling: if the survey respondents had to choose just one streaming service, more than half would choose Netflix. The second highest was HBO Max2, with only 12% indicating it would be their streaming service of choice. Despite coming in second in current popularity, only 10% would choose Disney+ as their only service. This could be due to Disney+ focusing on children's programming and the demographics of the survey participants. Nonetheless, the Marvel and Star Wars movies have been a cultural phenomenon across ages and grossed billions at the box office, so it still comes as a bit of a shock that the Disney+ library isn't more popular.
Is there a great streaming purge on the horizon? Probably not for now.
Speaking of choosing just one service, despite inflation and tightening budgets, almost 60% of respondents don't foresee their number of streaming services changing. While about a quarter of respondents do expect to reduce their number of streaming services, 15% actually anticipate their number of subscriptions increasing.

Subscription Models and Account Updates
Moving away from freeloading is going to be an uphill battle.
In order to increase revenue and answer investor concerns, many streaming companies are planning to crack down on password sharing. There are a number of proposed solutions for getting fees from users who are currently accessing streaming services through someone else's account. It should come as no surprise that it will be nearly impossible to get people to feel good about paying for something they currently get for free.
45% of our respondents indicated that they currently engage in password sharing to access some streaming services without paying. A full 55% of these people said that they would NOT pay more to get the services they are currently getting for free. How many of these people will end up opening their wallets when faced with the prospect of having their favorite content spigots cut off remains to be seen, but it's understandably not a popular scenario right now.
Lower-cost ad-supported experiences get a lukewarm reception.
Netflix and Disney have plans in the works to offer ad-supported experiences, but the results of this survey indicate that these may not be as popular as hoped.
Only 37% of respondents currently subscribe to an ad-supported service and nearly 3 out of 5 indicate that they prefer to spend more to get an ad-free experience. Further, most current premium ad-free subscribers do not plan on downgrading, with less than a half saying they would even consider it.
This doesn't necessarily mean that the ad-supported tiers are dead on arrival.
For one, the proposed ad-supported tiers may have the potential to bring in new subscribers if it means paying less. More than half of people who don't currently subscribe to a premium ad-free experience indicate they would consider subscribing to a lower-cost ad-supported tier.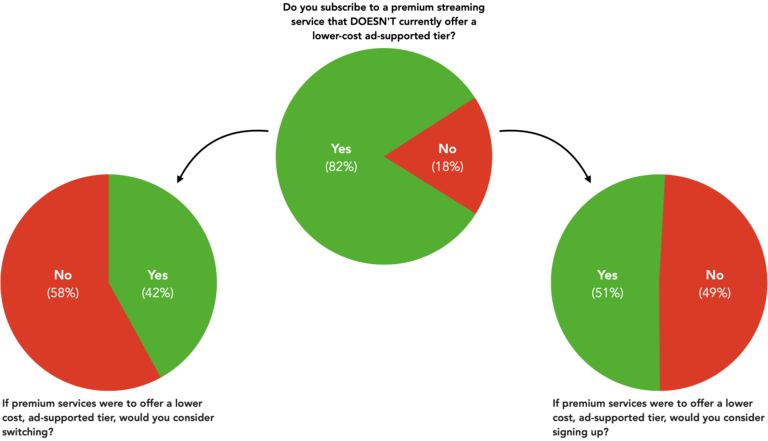 Secondly, the new ad-supported models being explored may be very different than what we've come to expect as viewers and marketers. The current ad-supported services basically adopted the cadence and advertising formats from linear TV, but the new players have shown a willingness to revisit everything. Netflix's foundation is based on disruption and they selected outsider Microsoft as their advertising partner. It's also been leaked that Disney+ plans to only have 4 minutes of ads per hour, much less than competitors.
People binge to save but it's not the preferred way to consume shows.
Netflix pushed all their chips in on binge viewing (having all of a TV season's episodes available at once) but has recently begun to experiment with a staggered approach by splitting season 4 of Stranger Things in two. But how does the audience feel? Binging is popular amongst those looking to save on regular subscription fees, but it is not the preferred way of consuming content.
More than two-thirds of respondents indicated they had subscribed to a streaming service for a limited time just to binge a specific show at least once, with only 6% saying they do it on a regular basis.
When it comes to regular viewing though, almost 70% of respondents prefer a hybrid approach, watching 2–3 episodes at a time as opposed to all as quickly as possible, or metered out to once a week.
Based on these numbers, expect Netflix to continue to move away from a pure binge strategy as a way to reduce churn while aligning to viewer preference.
In conclusion
The streaming world is changing rapidly. Since the survey went out, Warner Bros. Discovery announced that they would be merging HBO Max and Discovery+ into a single service. Disney+ announced details of their ad-supported stream which will cost the same as their current ad-free tier and in turn will be increasing in price. Concurrently, consumers and marketers can expect pretty big updates from Netflix in the coming weeks and months, particularly around their approach to advertising and binge programming. Netflix took down Blockbuster and the entire video rental business only to then disrupt itself and create the streaming industry. We suspect they won't be afraid to make their approach to these new challenges equally disruptive to the world of advertising.
Whatever happens, the survey results do indicate that Netflix's foundations aren't as shaky as the press has implied. Beyond that, the new models for engaging customers will likely meet with resistance but how much remains to be seen.
The low-cost airline industry shows that many of the people complaining about a service will still buy the cheapest ticket when they see the price difference. Similarly, many of the proposed changes in streaming will likely lead to negative feelings, but when faced with the prospect of losing access to their favorite programming, how many customers will open their wallets anyway?
***
Survey design and limitations
This survey was conducted using Marcel Intelligence, a proprietary tool that allows us to tap into the opinions and insights of the 80,000+ Publicis Groupe employees. This survey was run from 8/2–8/11 and targeted Publicis Groupe's US employees. We received 1,766 responses from across all locations and age groups. The results are more directional than statistically significant. Given the audience is comprised of marketing and communications professionals, it's not representative of the population as a whole. The survey respondents skewed younger, with 42% being 25–34.