DE&I in the Digital Ecosystem: How to Leverage Search to Address Racial and Body-Inclusivity Bias
Elena MacGurn & Jonathan Reiher & Dranea Lee
From prejudice and discrimination to implicit stereotypes, bias is everywhere in our society. As we strive to move toward a more inclusive culture, marketers play a critical role in uncovering and addressing various forms of bias around their brands. One particularly powerful source of third party data revealing such bias online is Google Search. As the largest focus group in the world, Google records and quantifies how we search for clothes, what questions we ask about makeup, and how brands choose to respond to such questions with available content. Leveraging this data at scale gives brands the advantages of understanding how diverse audiences choose to engage online, identifying where the bias exists, and using that knowledge to promote equity and inclusion when marketing to consumers. 
How Racial and Body Modifiers Perpetuate Bias
Diverse communities navigate through biases in their search journey every day. Today, a generic Google search for "men's haircut" reveals a forever scroll of mostly white male images. African Americans and people of color must use search modifiers, such as "haircuts for black men", to see hairstyle images that relate to them. The result is often consumer frustration and a feeling of disconnect towards brands.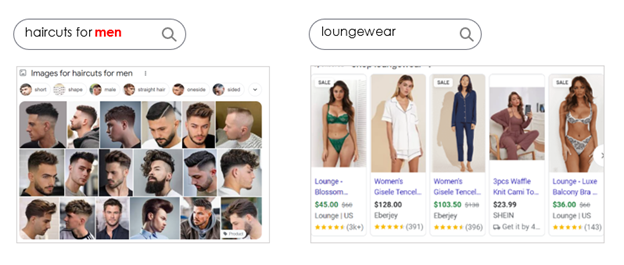 "Plus size" is another example of a required modifier for both men and women. Lack of body inclusivity at popular retailers has led to frustration and embarrassment for women that shop in this category. According to Refinery29, 55% of women seeking more inclusive sizes avoid in-store shopping, not due to a lack of interest but because they know their size isn't available. Seeing the same lack of options online continues to be limiting, biased, and discouraging.
While this type of bias in search may be unavoidable, brands can recognize the diversity of their target audience and work to make their consumer search experience more inclusive.
Who's Paving the Way: Companies Drive Inclusivity in Digital Marketing
Rihanna's Savage X Fenty brand has become a trailblazer in promoting diversity and inclusivity in the fashion industry. Although SXF's supply chain has yet to address issues of sustainability, transparency, and accountability, the company's website has made commendable efforts showcasing models of diverse skin tones and body types. Fenty's emphasis on representation for all is effectively conveyed through the brand's imagery. Their marketing campaigns often feature models who break traditional beauty standards, such as model Paloma Elsesser, a plus-size woman of color. When searching for Savage X Fenty products online, consumers see a wide range of sizes and body types, representing this brand's powerful message that beauty comes in all shapes and sizes.
SKIMS is a good example of a US retailer that diversifies both its ads and on-site images. Their digital ecosystem works hard to provide a more inclusive experience to those who search for "skims loungewear", "skims underwear", and "skims shapewear" via Google or look for these products on the brand's site. By integrating visual diversity throughout its product portfolio, SKIMS targets content to diverse audiences, reducing consumers' reliance on search modifiers such as "shapewear for plus-size women" or "underwear for a black woman".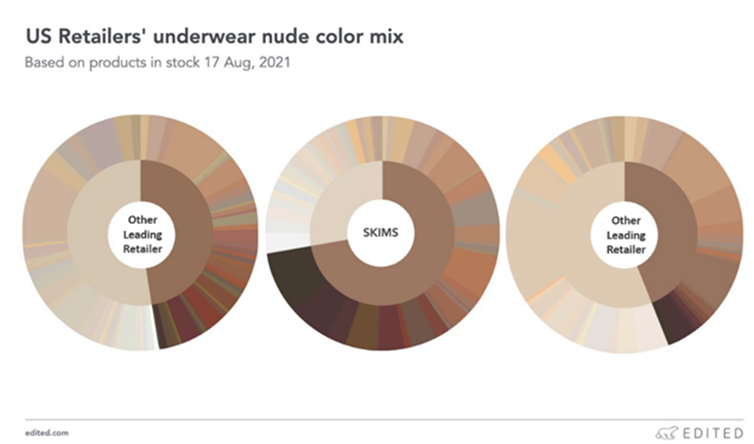 Nordstrom was recently identified as a fan favorite due to its expansive size offering. Despite already carrying sizes from 00 to 28W, Nordstrom continues to commit to the increase of these offerings as they lead toward a more inclusive shopping experience. Other retailers including Target and JCPenney have recently started to follow suit.

And finally, Google itself has recently taken steps towards more inclusivity with the recent introduction of their upcoming search features. The new filters are meant to empower users and help them find content that holds greater personal significance and limits reliance on racial or body modifiers in search. Google has also shared their plans to ensure the company's Generative AI algorithm logic prevents offensive results from being displayed when users ask the search engine related questions.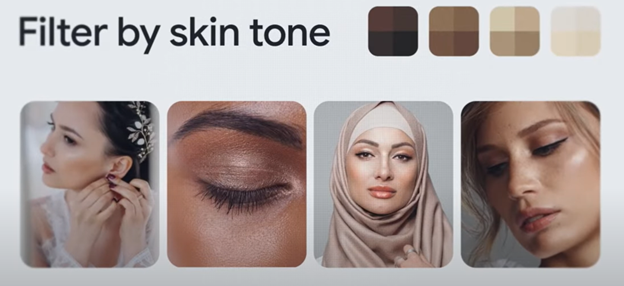 What Brands Can Do to Reduce Bias Now: Use Search Data to Uncover Inclusivity Gaps for Your Brand
Exploring search data is the first step for marketers to uncover potential inclusivity gaps in how a brand may be perceived by diverse communities. According to SEMRush, there are over 250K monthly Google searches in the US for queries including "for black women" as a necessary modifier to finding related services or products. That's 24 times more than the number of searches for similar Google queries including a "for white women" modifier. Brands can leverage search data to take a closer look at which diverse communities are looking for related products, and then incorporate these findings into crafting inclusive marketing strategies.
Recognizing cultural gaps is equally important. For example, a CPG brand that relies on generic recipe content to build brand awareness and drive users to its website may be missing multiple diverse audiences already engaging with its products. For some regions in the US, Google search demand for Mexican, Chinese, Japanese, or Indian spaghetti and tomato sauce recipes exceeds the number of searches related to Italian cuisine. Identifying these gaps and targeting content to diverse audiences looking for specific products can greatly improve brand recognition and engagement.
Consider the following tactics to kick-start DE&I online assessment for your brand:
Where are you missing the mark today? Leverage Google and other search engines' data to identify the use of racial, gender, body-inclusive, and other query modifiers already driving traffic to your website. Conduct a visual audit of your web properties to ensure an authentic, diverse representation of people and cultures exists.
Where are your biggest growth opportunities? Explore third-party search data to discover and quantify future optimization opportunities at scale:

What equity-related questions are being asked about your products or industry?
How does your brand show up for diverse searches related to your products?
Do you have the content and products needed to acknowledge and meet the needs of diverse audiences?
Does your online content promote an inclusive environment?

Take action: Use DE&I online assessment data to build a deeper connection with your consumers by planning, creating, and optimizing your brand's content, images, and media assets.