Overcoming Economic Uncertainty With Search
Abigail Brigham & Cam Myers & Elena MacGurn & Jonathan Reiher & Michael Doerman
Published November 17, 2022
How Brands Can Learn and Adapt to Changing Consumer Behavior
Contents:
As 2022 comes to a close and recession fears consume our thoughts, we see strong shifts in how consumers search online. Undoubtedly, these changes in search behavior are already forcing search engines like Google to work around the clock to meet user demand, become personal assistants, and socialize and commercialize the search experience. What are these key drivers of change, and how can brands recession-proof their digital marketing strategy today by leveraging the power of organic search?
Does Search Data Indicate Recession Is Coming?
Search data is powerful and capable of predicting consumer behavior during economic uncertainty. As fear of a recession looms, how do search patterns of past economic downturns correlate with what we see today? Let's compare today's consumer confidence across retail, real estate, and other verticals in contrast to the Great Financial Crisis (GFC) of 2008 and the 2020 economic downturn during the Covid shutdown.
Federal Rate Cuts: Searches related to economic policies are some of the first indicators of recessionary behavior. For example, search interest in "federal rate cuts" saw major spikes during the GFC of 2008 as well as the beginning of 2020. Interestingly, we don't see similar spikes in related search demand at the end of 2022.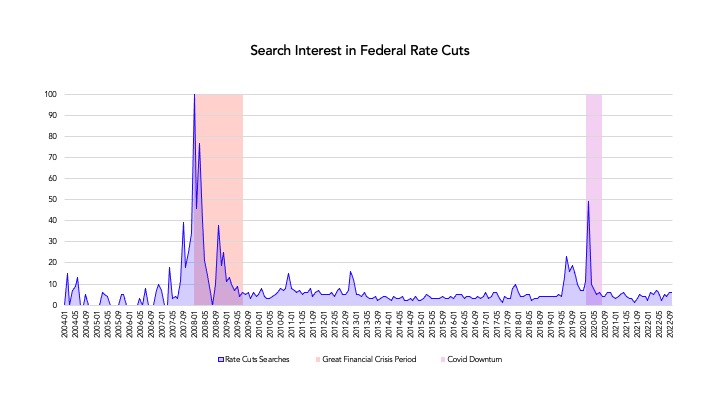 Recession Uncertainty: Spikes in recession-related search interest align with behavior leading up to previous economic downturns. However, while housing market concerns indicate mild pre-recession behavior, consumer searches for coupons, interest rates, and other economic policies remain low: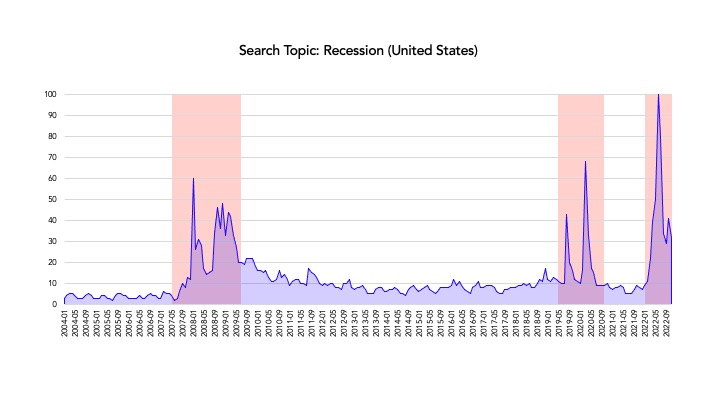 Consumer uncertainty is also seen in the searches related to money management. Paycheck planners, online budgeting tools, and general searches related to financial planning have seen double-digit growth since last year, suggesting rising levels of consumer apprehension.

The Housing Market: Consumer interest in the housing market grew considerably prior to the 2008 recession, spiked at the beginning of the Covid shutdown in early 2020, and has been a hot topic recently: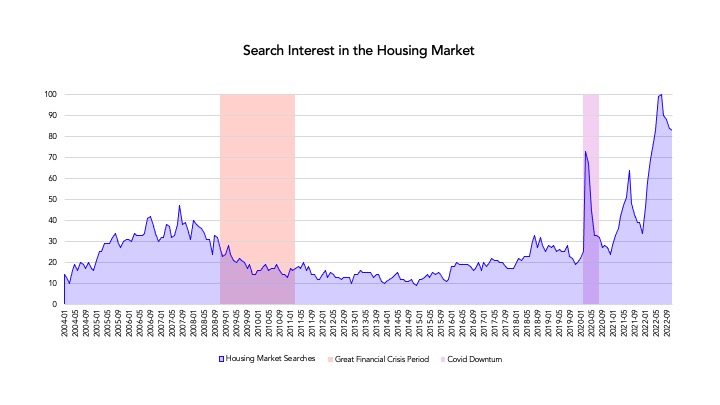 Budget Shopping & Unemployment: Searches for "coupon" and "free/cheap activities" appear to correlate with the rise and fall of unemployment rates. And since recessions tend to have a lasting effect on consumers, we see continued search interest in discount shopping options years after the economic downturns. Yet during the 2020 pandemic slowdown, no spikes were observed, and the current interest in coupons is at its lowest in 20 years: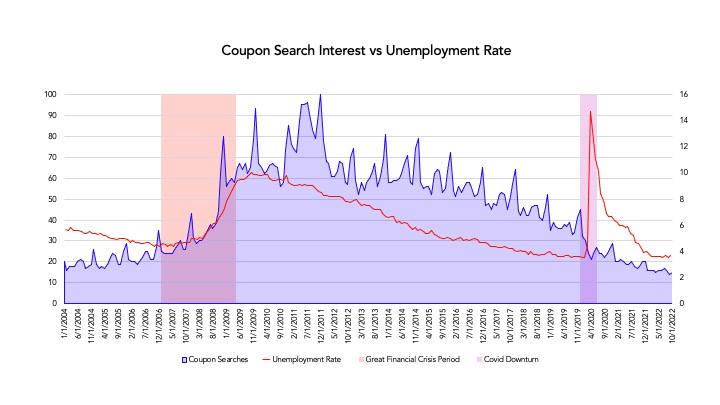 Actionable steps brands can take in the face of shifting consumer priorities:
Leverage search data to monitor, predict, and respond to shifts in purchasing behavior

Account for consumers spending more time planning their purchasing decisions by investing in a mid to upper-funnel engagement strategy. Optimize the customer journey to capture consumers comparing options online and prioritizing value over impulse.

Invest in building brand credibility through transparency during uncertain times with answers to critical product and industry questions. Consumers believe that brands ranking on page one of search results are more trusted and can offer a more direct path to purchase.
Economic Uncertainty Impacts Research & Purchasing Decisions: Value Over Brand
With economic uncertainties moving into the holiday season, consumers aren't ready to give up small luxuries. Instead, they are looking to get the best bang for their buck.
Expensive, high-end, branded products have increased in demand, but younger consumers and trendsetters are looking for product "dupes" to save money while keeping on trend. More than half of young consumers say the quality of "dupe" luxury items makes them less likely to want to buy the real thing, while searches for "dupes" have grown globally by over 40% year over year (Source: Think With Google).
Gen Z audiences are also turning to social platforms like TikTok and Instagram to discover, review, and discuss what is worth buying and how to use products. These TikTok trends are reflected in the increased demand for "dupes" seen in monthly Google searches.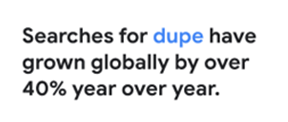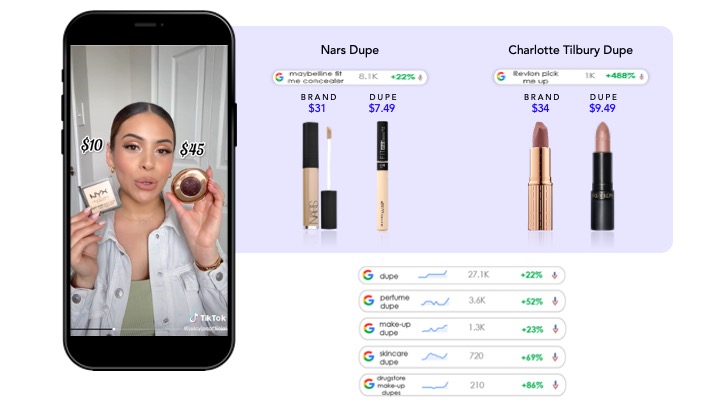 Now What?:
With budget considerations being top of mind, both private labels and household brand names have an opportunity to capitalize on these recent search behavior trends through well-optimized content and a connected marketing strategy.
Leverage the following tactics to increase visibility and own these conversations:
Emphasize your products' unique features and attributes with upper funnel content, such as side-by-side comparison sheets, blog posts, user-generated reviews, etc.

Work with your Dev and SEO teams to optimize product templates' HTML for max visibility in organic search results.

Extend your upper-funnel comparison content across multiple search platforms, such as Google, TikTok, YouTube, Pinterest, Instagram, etc.
The Pandemic's Lasting Effects on Retail: Flexible Payments & Convenience
The financial uncertainty, crippling unemployment rates, and the physical limitations of in-person shopping during the pandemic forced consumers to look for alternative means of purchasing goods. As e-commerce and inflation continue to rise, flexible payments and online convenience are here to stay.
Buy Now, Pay Later (BNPL): The BNPL payment option has been around for a very long time and historically experienced lifts in search interest right before and during the holiday season. However, when the pandemic hit in 2020, U.S. Search Demand for "buy now, pay later" and BNPL product related searches began to increase outside of the holiday drive, accounting for 2.1% ($97 billion) of all global eComm sales in 2020 (Worldpay). According to Google, the demand for BNPL information continues to rise as consumers are worried about inflation and feel uncertain about their economic future (Mintel).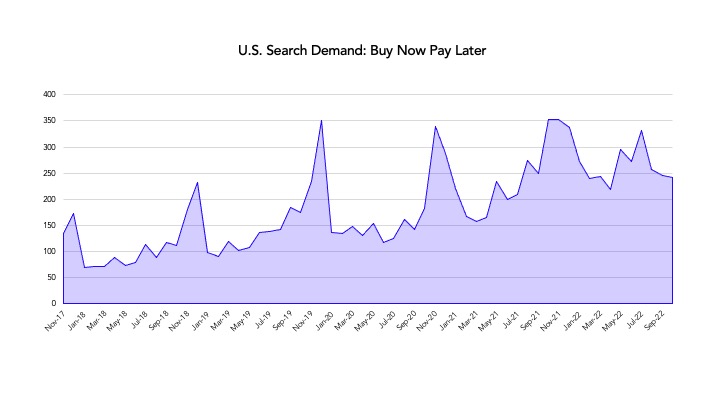 Buy Online, Pick up in Store (BOPIS): According to the National Retail Federation, 83% of consumers find shopping convenience more important than it was five years ago, with more people continuing to look for alternative means of procuring and receiving their purchases. According to Statista, 83% of consumers use BOPIS to pick up their purchases in-store, while 63% would like to try curbside pickup. Locker pick-up, car delivery, and other options are also becoming prominent options for select industries, as consumers continue to search for convenient alternatives to in-store shopping.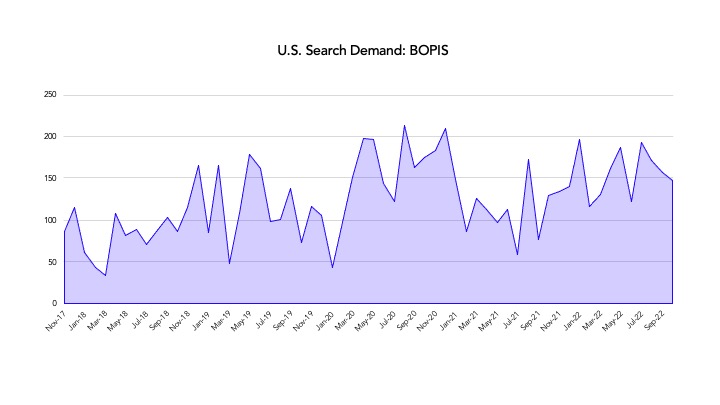 Now More Than Ever, Brands Must Be Flexible & Accommodating by
Being shoppable across multiple platforms and channels

Offering flexible payment options that further meet consumer demands. Consider leveraging Affirm, Afterpay, Klarna, or PayPal - Pay in 4

Improving convenience with BOPIS pick-up options

Optimize site content to reflect BNPL and BOPIS options

Optimize commerce content for new metasearch features, such as Multisearch
Search Shopping Gets More Visual with Google's Multisearch
This year Google's ambition to be every consumer's personal assistant took on a whole new meaning with the introduction of Multisearch - a tool that lets you search and shop using both text and the images your capture. If you haven't given it a shot, imagine taking a photo of something you'd like to buy, providing Google with your specific criteria, such as color or price, and getting a visual shopping feed tailored to your exact needs.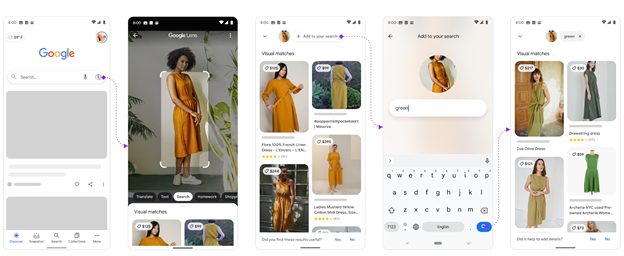 According to Google's recent report, Google Lens adoption rates have already jumped by 267% this year, answering over 8 billion monthly questions. Integrating this deep, contextual understanding of images with a more robust shopping experience is bound to have a profound effect on how consumers discover and engage with new products moving forward.
How to Optimize for Searches "Outside the Box":
As consumers can now price shop for similar or low-cost visual alternatives, commerce brands should consider investing in the following strategies:
Create unique product photography that is not easily comparable with similar, alternative options.

Leverage multiple product image sizes to stand out in the new visual search feed, which displays various-sized assets similar to a Pinterest feed.

Optimize your images with structured metadata. Create advanced product Schema data that goes beyond the minimal requirements to better align context between the users' image search and your media assets.

Leverage a connected media strategy that incorporates Organic Search considerations at the beginning of your product launch planning process.

Register for free product listings in Google Merchant Center.
Users Prefer to Engage With Brands That Leverage Immersive Technologies
While it's still early days for the wide adoption of Web3 experience, U.S. search demand for metaverse-related queries has increased by ~2,150% in the last five years. Consumers are becoming increasingly curious to learn more about virtual-only goods, and social media has made great strides in giving us a peak behind the Web3 curtain.
Young consumers are more likely to collaborate and transact in immersive virtual spaces. From "drive simulator" to "cooking simulator vr", consumer breakout searches in 2022 prioritize playful exploration and fun experiences via augmented reality (AR) and virtual reality (VR) headsets and controllers. In the last five years, the number of active AR devices has more than tripled with half of Gen Z consumers saying they are likely to make a purchase in the metaverse in 2022 (eMarketer).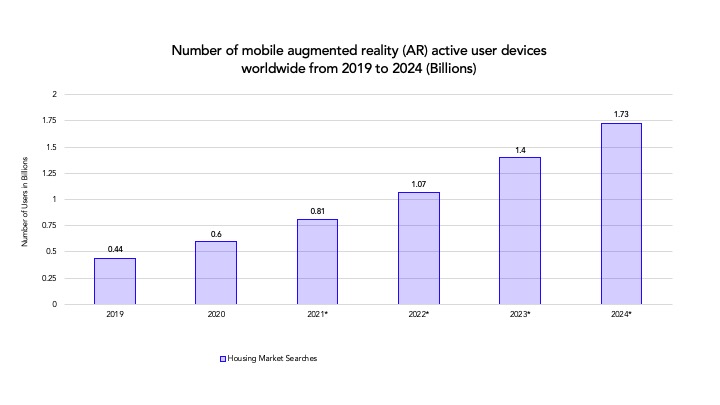 This mainstream adoption push of AR/VR technology has given brands a unique opportunity to provide consumers with new and immersive experiences. According to Accenture, 61% of consumers already say they would be more likely to buy from a brand that uses immersive technologies, while 84% of people acknowledge that the experience itself is equally important to the product or service they're using (Salesforce).
Brands such as Nike, Walmart or BMW have already dabbled in virtual showrooms, work environments, and different immersive experiences to boost user engagement. And while most industries are yet to see mainstream levels of demand for virtual goods, optimizing for unique brand experiences online can help engage younger audiences in the near future.
How to optimize for immersive experiences:
Stretch any sharable content and media assets across multiple channels. For example, a YouTube video can be stretched to become a video pin on Pinterest or reposted on YouTube Shorts, TikTok, as well as any other relevant social media.

Meet user demand in your vertical by connecting multi-platform digital strategies, across owned, earned, and paid media. For example, consider leveraging AR and VR technology to drive user engagement on-site, via app, and within your social media channels.
The Big Takeaway
Recession uncertainty and prior economic downturns have profoundly affected how consumers search for product information online, engage with brands, and make purchasing decisions. As various search and e-commerce platforms adjust to these shifts in consumer behavior, brands have new opportunities to engage prospects and new digital real estate to ensure active participation and discovery.
Leverage the following search strategies to drive immediate results while recession-proofing your digital presence: 
Know Your Audience:

Continuously monitor consumer search interest related to your industry, and plan to respond to emerging commerce trends and breakout topics. Discoverable content and well-optimized sites have proven to be recession-proof, generating a stable and predictable flow of revenue, and designed to compound consumer engagement over time.

Stay Shoppable:

Highlight any unique product attributes to capture consumers comparing multiple options online and actively promote flexible payment and pickup options.

Extend Reach:

Ensure any owned, earned, or paid media assets, such as images and videos, are optimized to be discoverable and shoppable across multiple social, e-commerce, virtual, as well as traditional search platforms.